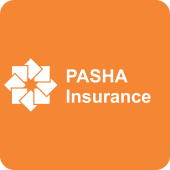 I hereby confirm that "SmartIT" company participated in projects for the development of IT infrastructure of "Pasha Insurance" company.
The network, server and telephone infrastructure of "Pasha Insurance" were deployed with the help of "SmartIT" company. The backup storage is configured for the all critical data and critical systems are duplicated at the backup site. Redundancy and data availability have been repeadetly proven in critical response tests.
"SmartIT" has fully prepared the cable infrastructure of the entire building with a component guarantee for 25 years for the company's new office. Also there were installed authentication and access systems for the building. For the convenience of connecting to the company's resources, a wireless access system was deployed. During the move to the new building, "SmartIT" company organized the migration of all IT resources with minimal downtime.
Special attention from "SmartIT" is paid to building information security in "Pasha Insurance". Palo Alto next-generation firewalls were deployed to control Internet access. A monitoring system with alerts has been set up to monitor critical nodes and services. An "Imperva WAF" system has been installed for the protection of web applications and its efficiency has been confirmed by external company tests.

Namik Heydarov
Head of IT Infrastructure Management